PERSONALISATION: HELP & FAQ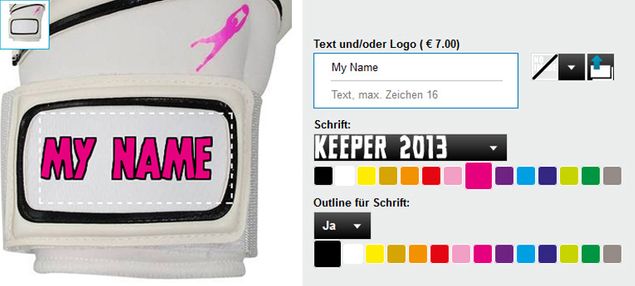 With our online printing tool you can design your own labelling for gloves, shirts and several other products. Simply select the section where you would like the print to be placed by klicking onto the corresponding box in the preview image. A cursor will then appear in the input field on the right and you can type like in any other computer program.
On gloves double- or single-line texts are possible. Depending on the height of the cuff our printing tool displays your options automatically. Unfortunately it is not possible to have a print on the left glove that's different from the right glove and vice versa.
Font/Colour
To change the font or colour of your text, simply select a font from the pull down menu and klick onto your favourite colour in the chart. The majority of the fonts we offer are the "original" ones, as used by our suppliers. The plain standard font is the only one that comes under the basic price. Below the font-selection you can find all the colours we offer, in which black and white are the "standard" for a basic rate. Should you wish to add an outline to your text, change the drop-down to "yes" and select a colour.
Price Info
The basic rate applies to the "Standard" font in the colours black or white. For all other colours, outlines and special fonts we charge slightly more. The system automatically calculates the current price for you, which is then shown in a seperate tab for each product. The total appears in the header.
Special Characters
Important: Not all fonts allow special characters! You can check and see this in the preview on the left. If there's anything you are not sure about, please get in touch.
General Information
Personalised products cannot be returned or exchanged.
Shipment may be delayed slighlty due to the printing process.
Edges are cropped along the outline, any inner areas will remain white.
Variations in colour may occur and represent no qualified reason for complaints, refunds or exchanges.
Quantity discounts for 10 or more prints of the same kind are available upon request.
Files for logo prints should ideally be submitted in TIFF or EPS format at a high resolution (300 DPI). With JPG, BMP, GIF, etc. quality issues may occur. – Check the quality preview when uploading a file!
Note: When submitting PDFs print results may vary, depending on the export settings of the file! You're welcome to send us a JPEG for revision, otherwise we cannot be held liable for the print results of PDF files.
Info: Not all file formats can be displayed in the preview.